Inplace implementation for arithmetical operations. More...
#include <InplaceArithmeticalOp.h>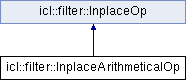 ◆ optype
Optypes specify the certain operation.
Enumerator
addOp 

add a constant value to each pixel

subOp 

substract a constant value from each pixel

mulOp 

multiply each pixel by a constant value

divOp 

divide each pixle by a constant value

sqrOp 

squares each pixel

sqrtOp 

calculates the square root of each pixel

lnOp 

calculates the natural logarithm of each pixel

expOp 

calculates the exponential function for each pixel

absOp 

calculates the absolute value for each pixel
◆ InplaceArithmeticalOp()
Create new instance with given operator type and optional value.
Parameters

| | |
| --- | --- |
| t | operator type |
| value | 2nd operand for the operations. Some operation like "ln" or "abs" do not need this operand, so it can be omitted. |
◆ apply()
◆ getOpType()
| | | | | |
| --- | --- | --- | --- | --- |
| optype icl::filter::InplaceArithmeticalOp::getOpType | ( | | ) | const |

inline
returns the current operator type
◆ getValue()
| | | | | |
| --- | --- | --- | --- | --- |
| icl64f icl::filter::InplaceArithmeticalOp::getValue | ( | | ) | const |

inline
returns the current value
◆ setOpType()
| | | | | | |
| --- | --- | --- | --- | --- | --- |
| void icl::filter::InplaceArithmeticalOp::setOpType | ( | optype  | t | ) | |

inline
sets the current operator type
◆ setValue()
| | | | | | |
| --- | --- | --- | --- | --- | --- |
| void icl::filter::InplaceArithmeticalOp::setValue | ( | icl64f  | val | ) | |

inline
◆ m_dValue
| | |
| --- | --- |
| icl64f icl::filter::InplaceArithmeticalOp::m_dValue | private |
◆ m_eOpType
| | |
| --- | --- |
| optype icl::filter::InplaceArithmeticalOp::m_eOpType | private |
---
The documentation for this class was generated from the following file: